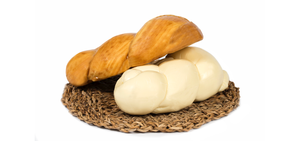 Smoked treccione is a stretched curd cheese made with pasteurized cow's milk. After the spinning, it is manually braided and then placed in brine for about 6 hours and finally smoked with the aroma of liquid smoke. The milk used comes exclusively from Sicilian farms. Product without preservatives.
Weight: 500 gr.
Ingredients: Pasteurized cow's milk, salt, rennet, lactic ferments, smoke aroma.
The cheese cuts are made manually with a knife, so the real weight of the portioned slices may differ from that indicated at the time of the order by about 15% in excess or shortage. It will be our care to ensure that the total weight of the cheeses is equivalent to that ordered and paid for.