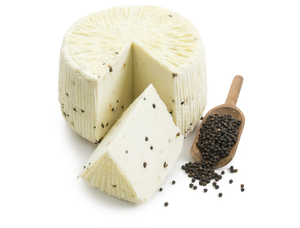 Primo sale produced in eastern Sicily. Semi-cooked hard cheese. Paste: compact and soft, white to yellow in color. Rind: rough and thin, color from white to light yellow; Taste: sweet and delicate, typical of "young" cheeses.
Weight: 500 gr.
Ingredients: Sheep's milk, cow's milk, goat's milk, rennet, lactic ferments, salt, black pepper.
The cheese cuts are made manually with a knife, so the real weight of the portioned slices may differ from that indicated at the time of the order by about 15% in excess or shortage. It will be our care to ensure that the total weight of the cheeses is equivalent to that ordered and paid for.